Join the Resistance! Restore the Galaxy!
Ruled by the charismatic and just leader, Atreus, the Republic of Atrusia spread an unparalleled peace across the galaxy that was expected to last a millennia… which is exactly why the coup caught them so off-guard. Overthrown by his treacherous brother, Taros, Atreus was imprisoned and a new age of oppression and militarism was ushered in. Now, the few remaining forces loyal to Atreus set off on one last desperate campaign to restore the Republic. But even they had no idea just how dark Taros's plans were.
Discover a universe full of breathtaking planets & ominous spaceships all rendered in detailed HD.
Compatible with the Apple Game Center & the iPhone 4 gyroscope for 360° of immersion.
Challenge a variety of missions that will test your reflexes, instance and even your cunning.
Choose from a wide selection of ships, from the versatile Wyvern to the strong & elegant Valkyrie.
Uncover a deep storyline full of memorable characters, epic conflicts and unexpected twists.
For the first time in a 3D iPhone game, play online or local co-op multiplayer via Wi-Fi & Bluetooth.
Discover a universe full of breathtaking planets & ominous spaceships all rendered in detailed HD.
Compatible with the Apple Game Center & the iPhone 4 gyroscope for 360° of immersion.
Challenge a variety of missions that will test your reflexes, instance and even your cunning.
Choose from a wide selection of ships, from the versatile Wyvern to the strong & elegant Valkyrie.
Uncover a deep storyline full of memorable characters, epic conflicts and unexpected twists.
For the first time in a 3D iPhone game, play online or local co-op multiplayer via Wi-Fi & Bluetooth.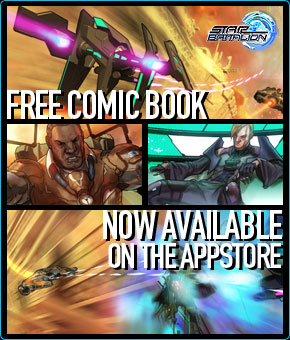 The fight to restore Atreus isn't just about high-tech starships fighting across the galaxy; it's about the people and the pilots behind them. Get to know your friends and understand your foes. Because it's not just what you're fighting that matters, it's what you're fighting for.
the resistance
the royalists
ROLE

Pilot, Squadron One Leader, Orion Force

Having taken the lead of a Resistance squadron at a fairly young age, the imaginative Sonan has something to prove -- though everyone knows he's one of the best pilots out there.

Now he needs to learn to attenuate his always-ready-for-a-fight instincts to the demands of leadership in battle. Sonan and Kora flew together before as rookies, and she constantly gives him crap for being a golden boy who rose to the top through family connections (his adoptive father was a hero in the wars of unification), while her family is from a hardscrabble mining planet.

Sonan does not know that he was cloned from Supreme Ruler Taros to be a super-soldier in the elite Immortals squadron; when something went wrong with the cloning process, he was allowed to live, but his origins were concealed and he was given away for adoption.

ROLE

Pilot, Combat Recon Specialist

Kora is never happier than when she's in the middle of a good dogfight -- because she knows who's on her side and everyone else just needs to get blown the frack up. She sometimes carries that adrenaline junkie persona off the field of battle, however, which means her personal life is nonstop drama and conflict. The cockpit is the only place she knows peace of mind.

Kora believes herself to be the best pilot in the Resistance -- and with good reason. Since she pulled herself up by her bootstraps, it rankles her that Sonan has achieved command so quickly. Luckily for him, she has great respect for his skills.

ROLE

Pilot, Science/Tech Specialist

The voice of reason in Orion Force, the analytical Ajax is both smart and competent. He often feels the need to temper his brash leader's desire to jump in first and ask questions later, especially with Kora egging him on. He's no teddy bear, that's for sure, but when the spit hits the fan, this is the guy you want on your team. He never loses his cool.

It's also worth noting that Ajax is not simply a true believer in the cause, and no abstracted academic either -- he's a true hunter, with a highly skeptical streak that borders on cynicism. The one thing he does believe in is the men and women with whom he serves, the people who have his back when the fighting gets heavy. He will do anything for them.

ROLE

Orion Force Commander

Saarel has seen it all: the pre-Unified Galaxy days, the wars of unification, the ascension of Atreus to the throne, his establishment of a Republic, and his overthrow by his brother Taros... Followed by yet more war. Through it all he's learned to be stoic. The violence of his professional life has not marred his commitment to peace and a belief in the essential goodness of humanity.

Though retired when Taros overthrew his brother, Saarel left his serene life as a terraformer on Gaia behind to support the Resistance. He has never once questioned that decision.

ROLE

Former Leader of the Republic

The eldest son and heir of High Regent Elian V, Atreus was raised from birth to become ruler of the galaxy. But from an early age, he seemed almost instinctively to brush aside the narcissistic trappings of his birth. When the unification wars broke out, he enlisted to fight over the objections of his father and much of the government; but he couldn't stomach sitting on the sidelines while others were ordered to fight and die. And so Atreus not only served, but did so with real distinction and valor, eschewing a comfortable officer's position in favor of enlisting at the lowest rank. By the time the wars were concluded, he had earned the Orion Medal for Valor and become a hero in the eyes of the enlisted men and women who had fought alongside him.

Shortly after the wars, Elian V passed away and Atreus assumed rule of the galaxy. He immediately instituted reforms designed to reduce the power of the Regent by bringing back the old Senate, and encouraging political reforms throughout the galaxy. The wealthy and powerful that had benefited from the status quo were immediately threatened -- and outraged. With the help of his younger brother Taros, they deposed Atreus, imprisoning him on Dunakan.
ROLE

Star Fleet Commander

Trak is a highly capable, battle-tested soldier and commander, but his experiences in paramilitary skirmishes leading up to the unification wars as a member of the so-called "Drodoorian death squads" have deeply scarred him. He's a perpetually angry, post-traumatic stress case who will brook no dissent about anything, anywhere at any time. His eyes are always on the bottom line: kill more of them before they kill us, whoever "they" happen to be at the moment. Rinse and repeat.

Secretly terrified of losing his alpha status, he will browbeat, humiliate, and punish anyone who gets in his way. But he's no one-note mustache-twirler either; an expert manipulator, he can spin on a dime and play the gruff father figure when his needs and the situation call for it. He does, however, have a weakness for young women, especially from the tropical planet of Anitven, where he served several tours of duty in fighting that led to the unification wars.

ROLE

Pilot, Squad Leader, The "Immortals"

Contrary to her nickname, Mayhem is the iciest fighter pilot in the galaxy. Part of it comes from the fact that she's a genetically enhanced super-soldier cloned from the Supreme Leader Taros's DNA; part of it is just that she's a stone cold killer.

Mayhem has no personal life. She's all about the job: serving Taros and quashing the Resistance as swiftly as possible.

ROLE

Supreme Leader of the Unified Galaxy

Taros has a chip on his shoulder. Several, actually.

Firstly, his older brother was always the golden child: the smartest, the most talented, and the best at everything. Secondly, Taros was disqualified from military service in the unification wars because of a genetic condition that weakens his heart, despite several cloned hearts and several attempts at genetic reconditioning therapy. The constant pain left him addicted to various chems as well. So while his brother went on to become a hero of the unification wars, Taros sat on the sidelines, silently brooding. Waiting for his chance. Vowing one day it would come.

And it did. Because his brother's reform government alarmed a number of people, the kind of powerful people who don't like to be alarmed. For the first time in his life, Taros had high-level supporters, even admirers, many of whom felt that his bleeding-heart, reformist brother Atreus was actually leaving humanity vulnerable to inter-galactic threats while he pursued naive dreams of openness and freedom for all.

He overthrew his brother with their help, and now he rules the unified galaxy with an iron fist.
N.O.V.A. - Near Orbit Vanguard Alliance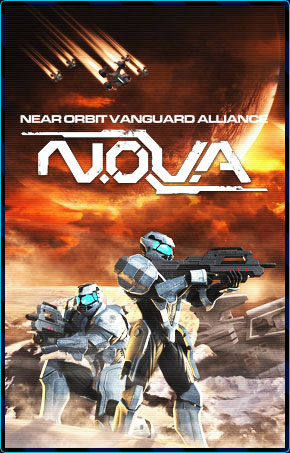 Pilots is only as good their starship. Each model has a unique mix of strengths and abilities suitable for different tasks and piloting styles. As a recruit, you may only have a few vessels at your disposal; but as you climb the Star Battalion ranks, new and more specialized models will become available.
the resistance
the royalists
The Wyvern is the iconic fighter of the Resistance. Built in the golden age of the Regency, this ship is robust and reliable, but it was discontinued when Taros opted for cheaper ships and larger armies. The Resistance treats these aging units with great respect and care. Many primitive tribes also treat it with mythological respect and call it "the redeemer".

The Wyvern is the most balanced and versatile ship available, able to handle any situation -- but it's not the fastest or most powerful ship available. Its main weapon is the plasma missile, deemed outdated by the Royalists but clearly effective. These homing missiles never miss their target.

The Fenrir class bomber is the Resistance's heavy space fighter. These ships were used for transport in the mines of Kurso, but the Resistance revamped them and turned them into formidable bombers. Considered nearly unstoppable, they can break through enemy lines like a juggernaut.

The Fenrir is equipped with heavy projectiles and features a thick hull. This makes it the perfect ship to storm heavily fortified enemy positions and ground units, but it is at a disadvantage against faster and more maneuverable fighters.

The Suran-manufactured Valkyrie is the Resistance's experimental advanced fighter, which they acquired after freeing Sura from Royalist control. Though scarce (there are not quite a hundred units in operation), whenever they appear on the battlefield, troop morale shoots up.

The Valkyries are offensive war machines of the highest caliber. They're equipped with a multi-locking advanced missile system that can shoot up to 5 homing projectiles. Not only are they powerful fighters, their speed is unmatched, making them difficult targets.

However, the Valkyries' Suran engineers had to trade all this power for a weaker shield device; that's why some Resistance pilots still prefer the older and more reliable Wyverns.

Modeled on classic Terran assault vehicles, Odin units are built for one purpose: to violently take large swathes of territory from the enemy as quickly as possible.

While not as advanced and versatile as the Royalist Lithia, these tanks are robust and they've played a major role in countless Resistance ground operations. Since they can carry dozens of soldiers, Odins make superb combat transports in addition to being a staple of any ground assault.

Commander Saarel himself once said, "Trying to win a land battle without a division of Odins is like trying to win a gunfight with one bullet. It ain't impossible...but it ain't exactly smart, either."

The Valhalla carrier is another of the Resistance's icons, and a symbol of salvation for many people in the outer colonies. After the Resistance liberated the Merakian system, the Sanorians became their allies and threw all their engineering capabilities behind creating the Valhalla for the Resistance.

Featuring 2 heavy cannons and carrying up to 16 fighters, the Valhalla can more than hold its own against Royalist frigates.
The Xenon fighter is cheap and fast to make, and constitutes the backbone of the Royalist forces.

Equipped with basic turbolasers and a few simple, non-homing plasma missiles, these ships are not the kind that do well in a one-on-one dogfight. Hence the Xenons fight in massive groups... and are extremely lethal. Even the most experienced Resistance pilot has a hard time dealing with an overwhelming number of foes.

The Radon is the heavy air unit of the Royalists. Their function in battle is to storm ground units and overwhelm defensive positions.

You would expect Radons to be powerful but slow, used more to hammer entrenched positions than engage fast, nimble fighters. The problem is that the Radon is not slow at all. Equipped with the latest Irion engines, these machines can actually hold their own against Resistance pilots.

While version 2.3 of the series upgraded its offensive power with a 4 cannon turbolaser, its main weapon is still the highly effective air-to-ground D4X missile.

Simply put, the Iridium is the most feared fighter in the universe. Not only because of its specs, but because this is the signature ship of the "Immortals", the genetically engineered super-pilots that serve Taros.

It's a fighter with no weak points: faster than any other ship in the galaxy, with a hull strength second to none. But its most feared attribute is its state of the art targeting system. More than one Resistance pilot has executed a flawless evasive maneuver... that turned out to be futile.

The Lithium is the Royalists' advanced ground unit. These two-legged, death-dealing machines maintain the supremacy of the Royalists in every corner of the universe. From Uk-Shakti to Borana, it's not hard to spot them stalking through cities and stomping on Resistance outposts.

Most of these units are equipped with basic lasers, but the newest models offer an upgraded version with heavy projectiles.

The Argon is an improved version of the basic Royalist Spider Unit that played such a decisive role in the unification wars. These impressive behemoths are truly devastating on the battlefield, equipped with a heavy ion laser for ground units and a small turbolaser to defend against aerial threats.

On top of their incredible offensive capabilities, the newest models are equipped with deflection shields, rendering them more or less invulnerable to other ground units. When the Royalists deploy Spider Units, Orion Force is the only hope the Resistance has, because only they are equipped to penetrate their defenses and take out the shield generators.

The Borium Class armored destroyer is considered a relic of the golden age of unification. Though it's been discontinued in favor of the more versatile Palladium, it remains the most feared ship in the Royalist arsenal.

There are just 5 Borium Destroyers still in active service: one in each of the galaxy's main quadrants, plus a fifth, which is Commander Trak's command ship.

The Borium destroyer is equipped with several missile launchers, 2 ion cannons and dozens of turbolasers. It usually carries 2 bomber squadrons, 4 fighter squadrons and 1 elite squadron of Iridia.

If all that isn't persuasive enough, keep in mind that a Borium will usually be flanked by several frigates, making this a unit you don't want to get close to.

For the first time ever on iPhone and iPod touch, you can team up other ace pilots and challenge the main campaign mode together. Recruit your friends or find a strong wingman on the Apple Game Center.